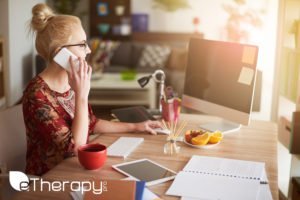 Picking the right career isn't easy, especially in this day and age. Fresh graduates and young professionals often have to deal with intense competition, rapid automation, and careers with very few prospects. That's one of the reasons why it is a good idea to consider online career counseling. eTherapy Pro helps clients explore different options and find a career that won't just suit their skill set but will also offer a high level of satisfaction. Here's a look at some reasons why online counseling is a good choice:
1. Easily Accessible
Unlike traditional face-to-face therapy, online counseling is very accessible. Even if you live in very remote towns or villages, you can get access to online therapy. You just need a stable internet connection and a device to communicate with the counselor. This level of accessibility also ensures you have multiple options when it comes to therapists. If one counselor doesn't work out, you can always pick another.
2. Affordable
Online career counseling is very affordable, especially compared to traditional therapy in expensive cities. The therapists don't need to deal with additional costs like renting office space and employing staff. They are also able to practice from a more affordable location if necessary. Lower overhead costs mean the cost of therapy is also low.
3. Private and Anonymous
Some clients don't want to share their struggles with others and would rather not let anyone know they're attending career counseling. Fortunately, online counseling is private and can be completely anonymous. That means clients don't even need to share their names and current professions with their counselor.
4. Highly Qualified Therapists
eTherapy Pro is a well-established platform for online career counseling. We have a wide range of qualified professionals with ample experience under their belt. We will get you in touch with a counselor with experience in this particular field so you can get more nuanced advice. While regular therapists or counselors can help with career counseling, experts that specialize in the field offer much better insight.
5. Straightforward and Unbiased Advice
Get straightforward and unbiased advice from qualified individuals. Unlike friends and family, professional counselors offer straightforward advice based on their assessment of you and your skills. Many clients try to ask their parents or other older family members for guidance on careers but their recommendations are often based on their personal experiences rather than an objective review of their interests. That's why online career counseling is more effective and beneficial.
6. Safer
Online counseling is much safer than traditional counseling during the pandemic. You can attend sessions from the comfort and safety of your home, without needing to worry about social distancing and contracting the virus. Attending sessions from home also helps people save time because they don't need to waste it on the commute.
As you can see, there are several reasons why you should consider getting online career counseling from eTherapy Pro. You will be able to make informed decisions regarding your career with a qualified counselor's assistance.
Disclaimer:
The views and opinions expressed in this post and any associated articles are those of the authors and do not necessarily reflect opinions or policies of eTherapyPro. These posts and articles are shared for your enjoyment and consideration. Read them or not at your sole discretion and liability. They are not intended to replace counseling services rendered by licensed professionals. Consult with your counselor before implementing any content from these articles into your life.